Cabot Microelectronics and KFMI collaborate on CMP pads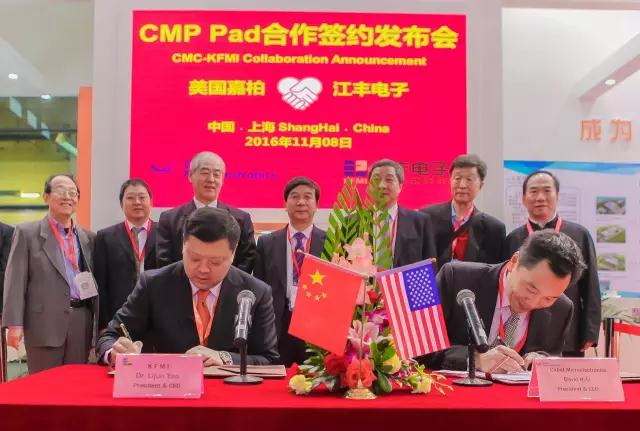 Cabot Microelectronics Corporation, supplier of chemical mechanical planarization (CMP) polishing slurries and a growing CMP pad supplier to the semiconductor industry, and Konfoong Materials International Co., Ltd. (KFMI), a privately-owned, China-based company specializing in developing and manufacturing ultra-high purity metal materials and sputtering targets for the semiconductor and integrated circuit industries, have announced their collaboration to provide advanced CMP pads to China's rapidly growing semiconductor industry.
The collaboration combines certain Cabot Microelectronics' NexPlanar pad technology with KFMI's experience in materials manufacturing technology and deep access into China's expanding semiconductor industry. The China semiconductor industry is expected to grow rapidly over the next decade based on Chinese government policy to become increasingly self-sufficient in semiconductor supply.
"This collaboration represents each organization's strong commitment to provide semiconductor manufacturers in China with reliable, local manufacture of the most advanced CMP pad technology available today," said David Li, President and CEO of Cabot Microelectronics. "We are proud to partner on this exciting initiative with KFMI, which has established itself as a global technology and manufacturing leader in the area of sputtering targets, retaining rings and conditioning disks for the semiconductor industry."
As part of the collaboration, KFMI will supply CMP pads at its China facilities utilizing certain technology of Cabot Microelectronics, to semiconductor device manufacturers in China under KFMI's brand.
"KFMI is proud to enter into this collaboration with Cabot Microelectronics, which is a leader in CMP slurries and has a strong reputation for providing innovative high-performing and high-quality CMP consumable materials," stated Dr. Lijun Yao, President and CEO of KFMI. "We have demonstrated the ability to manufacture and market materials with strict quality standards to a similar customer base, and we look forward to combining our capabilities to serve the rapidly growing semiconductor industry in China."