Greene Tweed: When it can't fail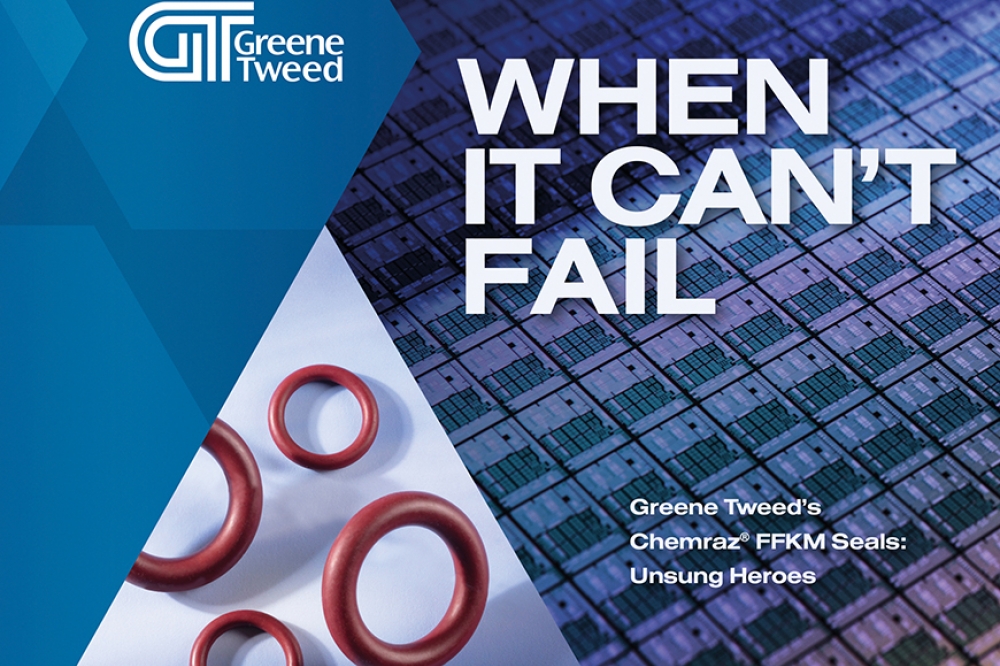 For years, the world will tell stories about what happened when we ran out of semiconductors during the pandemic. But industry insiders will remember this time for one more reason. The crunch highlighted the vital importance of some inconspicuous but indispensable component makers that power the intricate machinery of chip manufacturing.

By Nick McNeal, Director Semiconductor Strategy, Greene Tweed Thyag Sadasiwan, Director Chemraz®, Greene Tweed and  Pragati Verma, Content Specialist, Greene Tweed

Greene Tweed's Chemraz® FFKM seals: unsung heroes

GREENE TWEED is a remarkable example of such a company working behind the scenes to manufacture sealing solutions that outperform and outlast in the world's harshest semiconductor manufacturing applications. For 160 years, we've equipped critical sectors with materials and engineered components that deliver certainty for their crucial operations.

Our Perfluoroelastomer (FFKM) Chemraz® o-rings and sealing solutions, for instance, meet the critical demands of modern chip fabrication by preventing contamination while withstanding aggressive chemicals and extremely high temperatures.

For decades, we have been at the forefront of the complex FFKM production process. These high-performance materials need specific ingredients. So, disruptions can occur even if a single ingredient is in short supply. An unexpected and tumultuous industry-wide supply crunch gripped several FFKM ingredients due to several factors, including pandemic lockdowns and geopolitical events such as the Russia-Ukraine war.




The situation was exacerbated by an announcement from a major supplier that it will stop producing all fluoropolymers, fluorinated fluids, and certain additive products by the end of 2025. The disruption could not come at a worse time – It coincided with a global surge in demand for chips. FFKM material was in short supply at the very moment when semiconductor manufacturers needed it to go into overdrive. Soon, the FFKM industry found itself caught in the middle of a perfect storm, where supply delays could cause serious impediments to semiconductor availability and the resultant economic recovery.

It's not hard to see how these disruptions have made chipmakers acutely aware of how dependent the semiconductor industry is on FFKM seals. What's more, the criticality of FFKM sealing solutions will only grow as chipmakers pack more and tinier transistors in their chips and turn to more demanding processes that rely on ultraclean processing. Greene Tweed was the first sealing solutions company to use cleanroom manufacturing in the US and we intimately understand the significance of ultraclean operations in the semiconductor industry.

We understand that our FFKM Chemraz® sealing solutions are critical to perform in the harshest environments of modern semiconductor fabrication processes and improve uptime, reduce contamination, and boost wafer yield.




Chemraz® FFKM sealing solutions are known for their exceptional resistance to extreme temperatures, chemicals, and plasma environments.

Where second best isn't good enough
Cut to 2023: While the semiconductor industry is currently experiencing a short-term cyclical downturn, the next year looks brighter with predictions pointing towards an upturn in the second half. These boom-and-bust cycles are bound to intensify uncertainty and create demand-supply imbalances. In these uncertain times, even a downturn cannot eliminate the potential for supply disruptions leading to tightness and a resultant surge in demand. As a global leader in seals based on FFKM elastomers, we at Greene Tweed know that second-best seals aren't good enough in an industry as complex and challenging as semiconductor manufacturing. So, we decided to take action to minimize the impact of future disruptions on our customers' ability to manufacture chips. We realize that the dynamic landscape of the semiconductor industry demands strategic planning and foresight and are proactively taking measures to create robust Business Continuity Plans (BCPs) and ensure a steady and uninterrupted supply. We began by conducting comprehensive risk assessments, identifying vulnerabilities, and developing contingency plans to mitigate potential disruptions. Following the deep exploration, Greene Tweed has rolled out four major initiatives to help us navigate this turbulent terrain, circumvent future disruptions, and secure a regular supply to help drive our semiconductor customers' continued growth and success:

• Secure FFKM polymer supply
Our first step at Greene Tweed was to build  strategic stockpiles of critical raw materials to  prepare for the anticipated upturn. Securing raw materials is very important, but it's just one aspect of our multifaceted approach to ensure supply. Greene Tweed scientists are innovating to develop new products and reformulate existing ones to prepare for the ever-evolving regulations and shifting market dynamics. We are proactively identifying risks from ingredients that are supply constrained and mitigating them with more readily available feedstock materials.
    
At the same time, we are working with our supply chain partners to determine the potential impact of government reviews and supply crunch on their materials, chemicals, and production processes. Simultaneously, we are working with our customers to develop and validate alternate compounds with superior technologies and significant benefits.




• Diversify supply chain
While reformulating and developing new products, we are taking proactive measures to diversify our supply chain and reduce the risk of overreliance on a single supplier or region. We realize that setting up multiple FFKM factories is too capital intensive and might not be feasible for our suppliers. That's why we are leveraging multiple suppliers to build a resilient and adaptable supply chain that is better equipped to navigate the challenges of an ever-evolving semiconductor landscape. To do this, we are developing equivalent products that serve as alternatives to the original ones. We carefully select compounds and source raw materials for two equivalent products from different suppliers located in separate countries. For example, we are augmenting our supply chain by adding Chemraz® G57 that is equivalent to Chemraz® 657 and provides excellent plasma resistance in a variety of aggressive chemical environments.

• Expand manufacturing operations
We are also spreading our manufacturing footprint, strategically setting up factories in new locations across the world to help bring supply chain stability to the semiconductor customers. The latest is our upcoming manufacturing facility
in Cheongju-si, Chungcheongbuk-do, Korea. Expected to be ready by mid-next year, it will initially be dedicated to our highest-performing elastomer Chemraz® product line that was specifically formulated for semiconductor  applications. The state-of-the-art factory will not only increase our production capacity but also enhance flexibility and resilience in our supply chains. By decentralizing production and sourcing, we will be better equipped to manage supply crunches, overcome production bottlenecks, and maintain consistent deliveries to customers.

• Boost operational capacity
In tandem with the expansion of manufacturing capacity, we have significantly stepped-up our inventory optimization by building the right inventory to meet future demand within industry leading lead times. Coupled with our new facility,
this will help us grow our capacity and capability to better support the global demand for our products and bring enhanced supply chain stability to the semiconductor industry.

Our lead times: back on track
The results of building supply resiliency are already evident. We have been able to restore standard pre-disruption level lead times that our customers saw before geopolitical and regulatory events cause unprecedented supply chain issues – it's a testament to our resilience, adaptability, and customer-centric approach.

As we continue to forge ahead on this transformative journey, we are committed to keeping customer satisfaction and supply chain stability at the core of everything we do. We understand that our high-performance Chemraz® seals do what other seals can't do and timely delivery of our products is essential for our customers' success. Together with our customers and partners, we will continue to shape a resilient future that thrives on innovation and a custom collaborative approach that delivers certainty for our customers' crucial operations.

All your semiconductor sealing questions, answered
DO YOU need an elastomer o-ring or sealing solution built to withstand aggressive liquids, gases, and plasma at extreme temperatures found in the harshest semiconductor applications? Here are answers to the key sealing questions facing semiconductor manufacturers:

What kind of seals work best for semiconductor manufacturing processes?
Perfluoroelastomer (or FFKM) sealing material, known for its exceptional resistance to aggressive chemicals, extreme temperatures, and plasma environments, is ideal for a manufacturing process as aggressive as semiconductor fabrication.

Greene Tweed offers Chemraz® sealing solutions, known for their exceptional resistance to extreme temperatures, chemicals, and plasma environments.

What sets Greene Tweed's Chemraz® sealing solutions apart?
At Greene Tweed, we take pride in our Chemraz® sealing solutions that are engineered to outperform and outlast in the world's harshest environments. For 160 years, we've equipped critical sectors, including the semiconductor industry, with materials and engineered components that perform – no excuses, no exceptions.

With the broadest temperature range and unmatched chemical resistance among all  elastomeric materials, Chemraz® is the prime choice for the most challenging semiconductor applications. Our superior quality, precision engineering and customizability result in less downtime, and higher wafer processing yields.

What kind of semiconductor manufacturing processes benefit from Greene Tweed's Chemraz® sealing solutions?
Chemraz® FFKM sealing solutions are ideal for a wide range of semiconductor equipment such as:

• Conductor Etch
• Dielectric Etch
• PECVD
• ALD
• RTP
• Wet Cleans
• Chamber Seals
• Slit Valve and BSVs
• Pendulum and Gate Valves
• Eseals
• Chemical Delivery

Can Greene Tweed's sealing solutions withstand aggressive cleaning and etching chemistries?
Absolutely! Chemraz® exhibits exceptional chemical resistance, making it highly compatible with aggressive cleaning and etching chemistries used in semiconductor fabrication. It remains stable even when exposed to harsh plasma environments and reactive chemicals, ensuring optimal performance and longevity.

Can Greene Tweed customize seals to suit specific semiconductor applications?
Yes, at Greene Tweed, we offer a range of sealing solutions that can be tailored to meet your specific requirements. Our engineering team works closely with semiconductor manufacturers to design custom seals that match equipment specifications and deliver optimized performance.

I want to implement Greene Tweed's latest sealing solutions in my semiconductor application. How can I start the process?
To explore the benefits of FFKM sealing solutions tailored to your semiconductor equipment, reach out to our expert team at Greene Tweed. Our engineers are ready to talk about your specifications and provide technical guidance.

We'll keep working to iterate, improve, and deliver high-quality sealing solutions to elevate your semiconductor manufacturing process.