Helium Leak Detector Solutions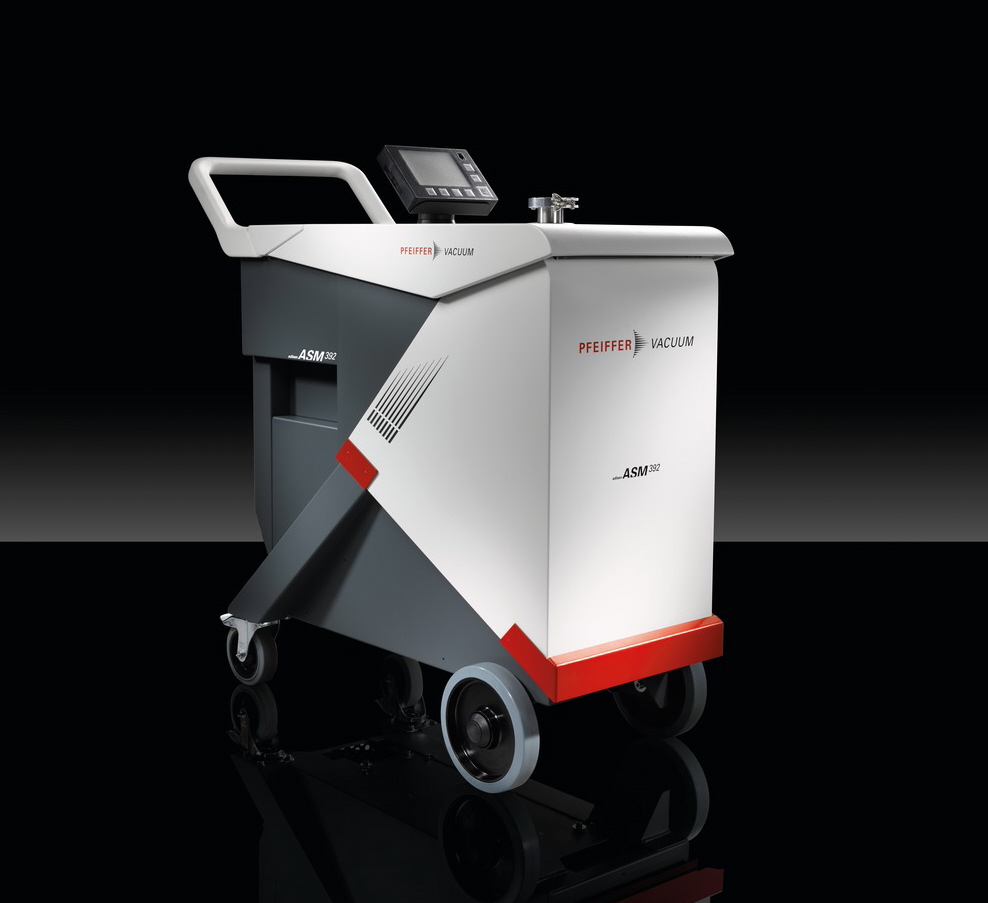 The semiconductor market demands helium leak detectors that deliver performance with dry pump technology that match the requirements of the vacuum process tool in use. Having a leak in a high vacuum semiconductor process tool is not an option. Locating all leaks on high vacuum systems with speed, accuracy and reliability requires a leak detector that is designed specifically for semiconductor vacuum process tools.

The Pfeiffer Vacuum ASM 390 and ASM 392 are the only Semi S2 and UL 61010 compliant helium leak detectors with unmatched performance with the most advanced leak detector technology on the market. ASM 390 offers a high helium inlet test port pumping speed starting at 10 l/s for fast response and cleanup time as well as ultra clean, high roughing capacity of 21 CFM to handle large volume systems without flaw or hesitation. High sensitivity of 1E-12 mbar l/s helium at full pumping speed is achieved with the Pfeiffer Vacuum SplitFlow 80 turbopump and multi-channel plate electron multiplier with digital preamp.
Both ASM390 and ASM392 incorporate Pfeiffer Vacuum ACP five-stage dry roughing pumps with the only frictionless vacuum displacement solution for long life and particle-free operation.

Need more performance for even more demanding test volumes of 50+ liters without parallel pumping? Consider the ASM 392 helium leak detector with twin high vacuum turbopumps by Pfeiffer Vacuum that deliver an even higher helium inlet test port pumping speed of pumping speed of 25 l/s.

Fast startup times of only two minutes and intuitive operator interface with single-button operation assures ease-of-use for any operator. A color touch-screen control panel with SD card for recording capabilities and even an app for your smartphone for wireless operation via Bluetooth and Wi-Fi. Intelligent, integrated automatic purge and variable frequency converter for the dry roughing pump assures performance and reliability. In addition, outboard sniffing with sniffer probe and the ability to use 95/5 hydrogen tracer gas (95% Nitrogen/5% Hydrogen) are just a few of the added benefits offered with the ASM 390 and ASM 392.

Want the best helium leak detector technology solution in nine languages and universal power supply for worldwide recognition? Challenge the Pfeiffer ASM390 or ASM392with any mass spectrometer helium leak test solution you have. It's the best leak detector solution for your semiconductor vacuum process tool.

Challenge the ASM390 or ASM392 with any mass spectrometer helium leak test solution you have and discover why it's the best leak detector solution for your semiconductor vacuum process tool.

Pfeiffer Vacuum, Inc.
Nashua, NH
www.pfeiffer-vacuum.com
Tel: 1-603-578-6500 or toll free 1-800-248-8254
E-mail: contact@pfeiffer-vacuum.com