An MES Designed for the Future of Semiconductor Manufacturing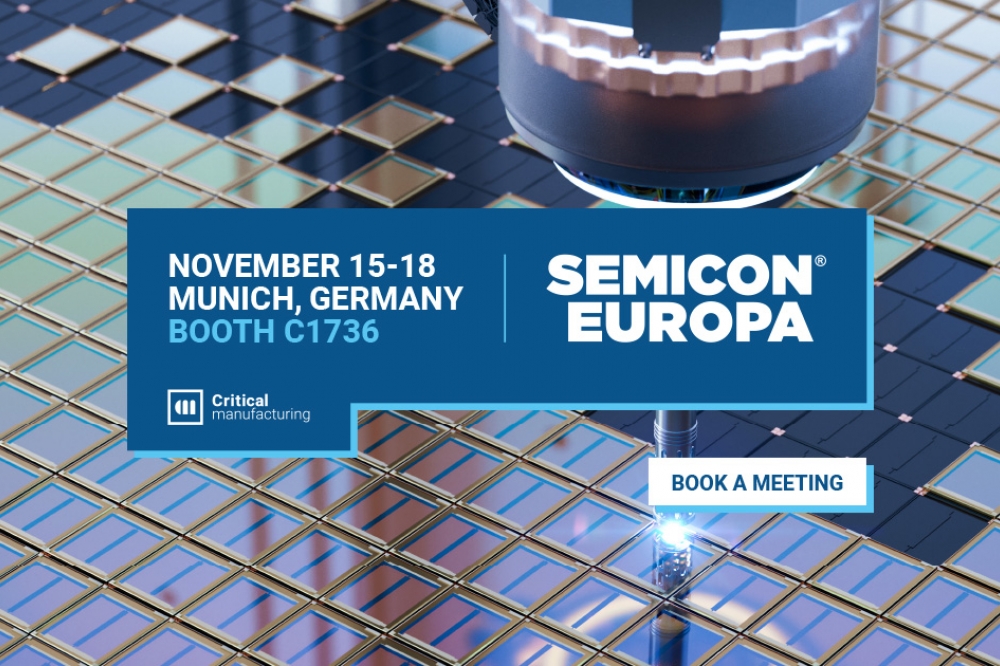 At this year's SEMICON Europa, Critical Manufacturing will be highlighting its advanced semiconductor MES capabilities. Designed specifically to manage complex processes within a semiconductor manufacturing environment, this advanced solution fully integrates the shop floor, gives complete visibility of operations, promotes manufacturing agility and innovation, and enables continuous process improvement. It offers manufacturers the opportunity to enhance quality, increase yields, and maximize production capacity.
A wide range of out-of-the-box functional coverage within Critical Manufacturing's MES covers advanced Front-end, Back-end, and R&D scenarios. These include Experiment Management, Recipe Management, and Send-Ahead Wafer capabilities. An advanced, integrated data platform contextualizes, analyzes and adds value to data from not only the shop floor but also multiple fabs and the wider supply chain.
To meet changing market needs, Experiment Management is a vital part of semiconductor production. Indeed, engineering modifications and developing products can sometimes account for over half the wafers in the shop floor. Integrating the need for experiments within the MES enables development wafer runs to be executed and run alongside other production lots. The full track and trace capability of the MES will mean all data from experiment runs will be automatically collected for evaluation.
The integrated Recipe Management module within Critical Manufacturing's MES provides seamless equipment integration and robust recipe control strategies. Recipes can be centrally managed, uploaded or downloaded from and to the equipment as required and automated recipe management prevents errors and the need for potential reworking or scrapping. To ensure traceability, the MES captures the exact recipe version and set of parameters used for each job and provides full integrity by ensuring that the recipe has not been modified.
When it is necessary to split a wafer from a carrier and send ahead to test a process, the Send-Ahead Wafer functionality within the MES ensures it is correctly tracked as it is split and then merged back into the lot, if needed. It can also handle the need to send a whole carrier ahead, controlling the slots that need to be processed, while the rest of the wafers are masked and waiting for the results.
Tom Bednarz, Sales Manager TECH Europe at Critical Manufacturing, says, "There are many more modules within the MES, which has been specifically designed to address the complex needs of semiconductor manufacturing. Alongside this proven semiconductor functionality, we have taken our MES to a new era in deployment flexibility and scalability using the most modern technology in the forms of HTML5, containers, and DevOps integration."
By integrating DevOps, Critical Manufacturing's MES is designed for easy deployment, maintenance, and upgrade, even across multiple manufacturing sites. This ensures new features and technology can be readily embraced and provide manufacturers with continuous improvements of production efficiency and agility in light of changing market demands. MES applications use container orchestration, which further helps optimize IT performance and makes the system readily deployable across global fabs.
"While our MES meets many 'out of the box' semiconductor processing needs, it is also a highly configurable system that offers extreme flexibility to readily model the specific business requirements of individual plants and meet changing business demands for the future," continues Bednarz. "Harnessing Industry 4.0 technology opens a new era in semiconductor manufacturing, offering remarkable benefits to the industry."
Critical Manufacturing experts will be on hand at Hall C1, booth C1736 at SEMICON Europa, which runs from November 15-18 at the Messe München, in Munich, Germany. They will be available to discuss specific site requirements and show customers the remarkable advantages of this modern, configurable MES, designed specifically to meet the complex needs of semiconductor manufacturing. To schedule a live demonstration of the key capabilities of the Critical Manufacturing MES, please visit: https://www.criticalmanufacturing.com/campaign/semicon-europa-2022/
Bednarz concludes, "With the growth in demand for semiconductors, the question is really not if semiconductor manufacturers should be considering a future-ready MES, but whether they can manage without one."