Cadence achieves Samsung Foundry certification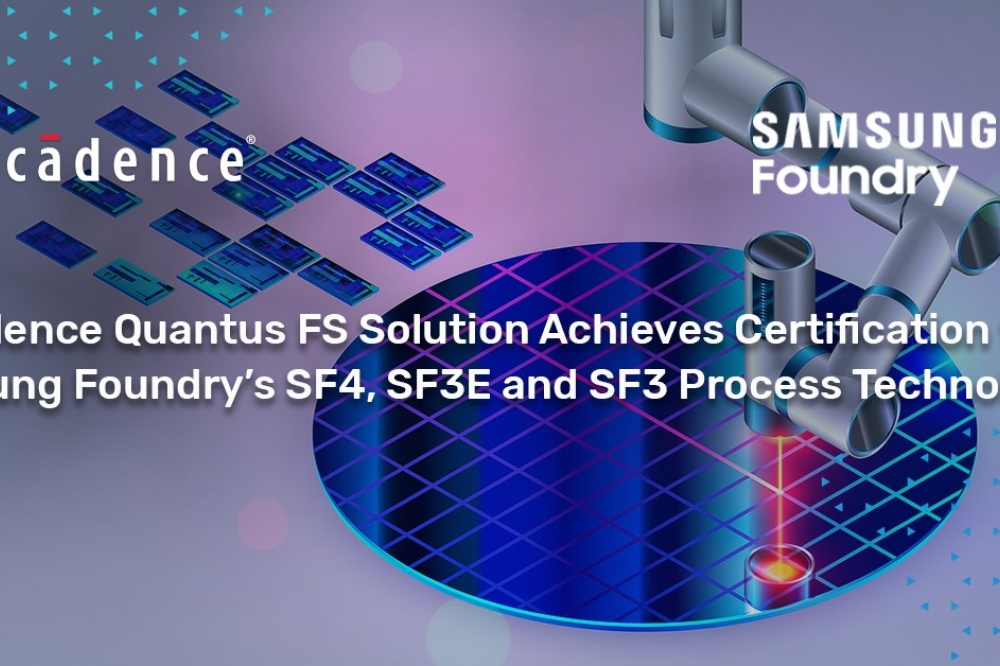 Quantus FS solution optimized to support Samsung Foundry's advanced technologies, delivering tighter parasitic extraction accuracy versus foundry criteria.

Samsung Foundry has certified Cadence Design Systems' Quantus™ FS solution for its SF4, SF3E and SF3 process technologies. During the Samsung Foundry certification process, the Quantus FS solution successfully demonstrated improved accuracy (tighter mean and standard deviation) versus foundry criteria, ensuring customers can achieve optimal design accuracy and performance. In addition, the certification included verification of capacitance and resistance of BEOL and FEOL, wire via resistance variation and litho bias modeling. Customers can immediately deploy the Quantus FS solution—for library IP characterization, AMS and interface IP, sensors, high-frequency analog and mixed-signal designs, and critical nets in all custom/analog designs—and sign off with confidence.
Included with Cadence's Quantus Extraction Solution, the Quantus FS solution is a random-walk field solver, utilizing a massively parallel architecture that handles the largest designs, provides faster throughput and linearly scales up to 1000s of CPUs. The built-in 3D capacitance field solver is cloud-ready and production-proven, offering a flexible, scalable modeling platform that enables faster implementation of the Samsung Foundry's advanced process technologies such as SF4, SF3E and SF3. The Quantus Extraction Solution and the Quantus FS solution are part of Cadence's broader digital full flow and support the Cadence Intelligent System Design™ strategy, enabling system-on-chip (SoC) design excellence. For more information on the Quantus FS solution, please visit www.cadence.com/go/quantusfscertpr.
"Our continued collaboration with Cadence has focused on delivering novel technologies to our mutual customers at advanced process technologies," said Sungjae Lee, vice president of the Design Enablement team at Samsung Foundry. "Cadence's understanding of the complex Gate-All-Around (GAA) modeling features combined with its deep engineering expertise, agility and collaborative approach is very complementary to our own approach in working with our customers. Cadence delivered on all of our accuracy and performance requirements, demonstrating tighter correlation with our golden reference data in a timely manner."
"The best way to support our customers is to bring innovative products to market that provide efficiencies and speed time to market," said Vivek Mishra, corporate vice president in the Digital and Signoff Group at Cadence. "We collaborated with Samsung Foundry during the initial technology development process to ensure all the requirements were met and implemented in the Quantus FS solution for easy, early customer adoption of the process technologies. The successful completion of the certification process is a win-win for Samsung Foundry and Cadence as well as for our mutual customers."