indie launches 'breakthrough' 120 GHz radar transceiver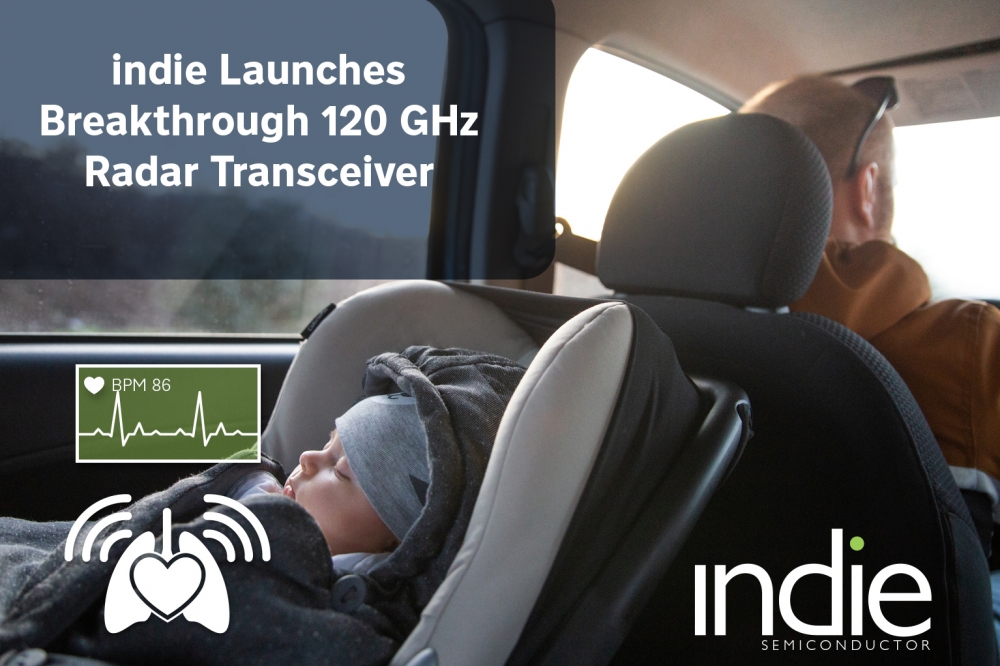 Expands indie's automotive portfolio of radar sensing solutions to in-cabin monitoring.

indie Semiconductor has launched what it says is the world's first volume production-ready, highly integrated 120 GHz IQ radar front-end (RFE) transceiver featuring on-chip integrated antennas. The TRXˍ120ˍ067 provides the high-resolution, small-form-factor, low-power consumption sensing demanded by emerging automotive radar systems and significantly simplifies application development by eliminating the need for external antennas.

Radar is already a widely deployed long-range sensing solution for safety and convenience features such as automated emergency braking (AEB), automated parking and adaptive cruise control (ACC), leveraging frequencies between 76 GHz to 81 GHz. As vehicle OEMs look to continually improve sensing resolution, radar is now becoming increasingly important for in-cabin Driver and Occupant Monitoring Systems (DMS/OMS), leveraging higher frequencies from 120 GHz to 140 GHz enabling vital sign detection, including heartbeat and respiration, to ensure occupant safety. These higher, license-free frequencies also support the use of antenna-on-chip techniques that significantly simplify PCB design, minimize sensor form factor and reduce cost - criteria particularly important for DMS/OMS applications where external antennas impose industrial design limitations unacceptable to automotive manufacturers.
As international vehicle safety assessment programs such as European New Car Assessment Program (Euro NCAP) mandate or recommend driver and occupant monitoring, in-cabin sensing solutions will rapidly proliferate and ultimately play a critical role in enhancing overall safety. As a result, S&P Global Mobility forecasts driver and occupant monitoring will represent a semiconductor market opportunity of $507 million in 2029, up from $64 million in 2022, representing a 34% CAGR over this period. Radar sensing at 120 GHz and above will increasingly contribute to the deployed in-cabin solutions to address high resolution sensing applications.
"Building on the momentum of our recent acquisition of Silicon Radar GmbH, we are excited to offer our customers the world's first, production-ready 120 GHz radar transceiver on-chip with integrated antenna, opening new possibilities for automotive radar and sensing applications," said Dr. Peter Gulden, SVP of indie Semiconductor's Radar Systems and Software. "This transceiver pushes the sensing performance envelope and uniquely positions indie as a leader in advanced automotive radar solutions."