Purdue, imec, Indiana announce partnership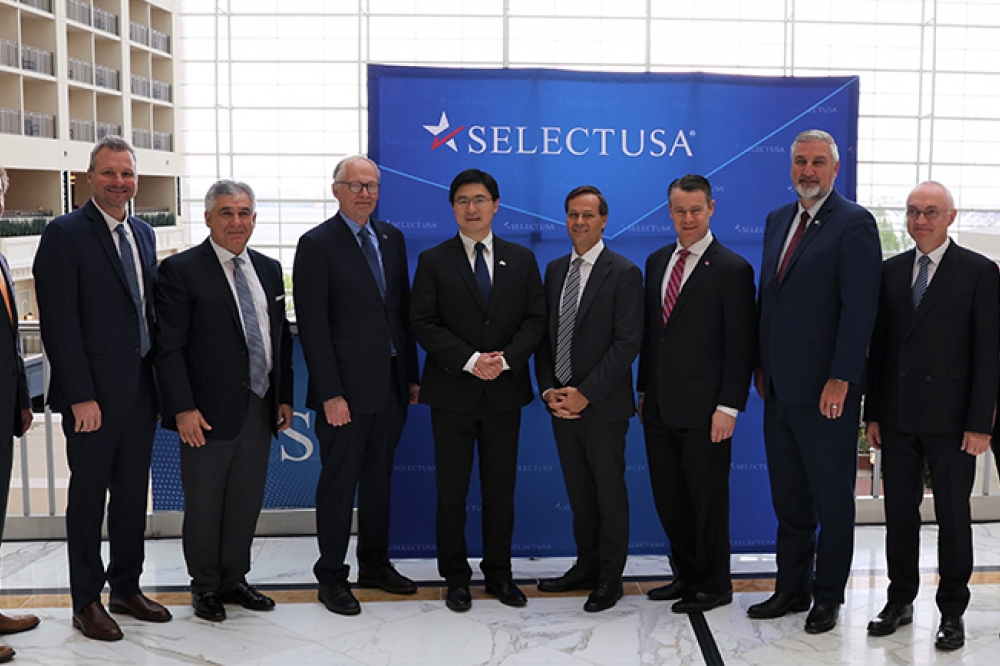 Collaboration with Belgium-based imec rapidly adds to building momentum in microelectronics for the Heartland.

Purdue University and the state of Indiana continue to make giant leaps in semiconductor research growth with a first-of-its-kind agreement with a cutting-edge European nano- and digital technology innovation hub.

Imec joined Indiana Gov. Eric Holcomb, U.S. Sen. Todd Young and Indiana Secretary of Commerce Brad Chambers and Purdue President Mung Chiang in announcing the partnership during the SelectUSA Investment Summit, an annual international investment event by the U.S. Department of Commerce near Washington, D.C.
"Purdue University and the state of Indiana have become the heart of the silicon heartland. Purdue is the most visible and forward-leaning university in the U.S. in the semiconductor degrees program, in research innovation to rewrite the economic equation of on-shoring fabs and packaging, in industry partnership with over 20 leading companies, and in national leadership in CHIPS for America's execution," Chiang said. "Today we mark a milestone for semiconductor collaboration between the U.S. and Europe by forming the R&D partnership with imec – the best example of successful collaboration across universities, companies and the government. We warmly welcome the imec ecosystem to the home of America's top four engineering and top five patent-receiving university."
The announcement with the IEDC and imec is the latest for Purdue in a rapidly expanding resume of investments in microelectronics industry research and semiconductor workforce development. Purdue has been recognized by Fast Company as one of the World's Most Innovative Companies for its advances in workforce development in semiconductors and microelectronics.
"This is a global piece of the puzzle that marks another milestone in Purdue's semiconductor programs and Indiana's emerging microelectronics industry," said Mark Lundstrom, Purdue's chief semiconductor officer and senior advisor to the university president. "Future-focused partnerships like this help bring together world-class expertise and state-of-the-art facilities."
With research sites across Belgium, imec leverages state-of-the-art research and development in advanced semiconductor technologies and artificial intelligence, uniting world-industry leaders across the semiconductor value chain.
The collaboration and equal investment between the three entities will strengthen the growing semiconductor ecosystem in Indiana and at Purdue with a steady exchange of expertise in the continually evolving and expanding industry. A stream of students, faculty and professionals are expected to bolster the already growing semiconductor foundation at Purdue with new innovations and research.
Zhihong Chen, the Mary Jo and Robert L. Kirk Director of the Birck Nanotechnology Center, said partnering with imec will enable Purdue to further strengthen the relevance of its research to the semiconductor industry.
"imec is one of the most well-known lab-to-fab facilities," Chen said. "They have helped the latest technologies or innovations discovered in labs to be converted into fab-ready types of technologies for industry to adopt."
Joerg Appenzeller, Purdue's Barry M. and Patricia L. Epstein Professor of Electrical and Computer Engineering, said imec will have a presence on Purdue's campus, working side-by-side with faculty and students at the Birck Nanotechnology Center. Additionally, students and faculty will have an opportunity to work in Belgium.
Working with imec falls in line with the university's recently announced Purdue Computes initiative. The announced $100 million Purdue investment in semiconductor research and learning facilities includes a phase 1 update of the Scifres Nanofabrication Laboratory located in the Birck Nanotechnology Center, an on-campus hub for microelectronics research, as well as global partnerships.
"The creative engine at Purdue is a very strong attraction for imec," Appenzeller said. "They understand that we both have complementary pieces of knowledge and capabilities, and that we don't want to duplicate what they already have in Belgium. We want to have something here that is complementary in terms of tools, processes and capabilities."
Both Chen and Appenzeller have been involved in discussions for more than a year to bring the Purdue and Indiana partnership with imec to fruition.
This is the latest international partnership for Purdue, which announced with the IEDC less than a year ago that MediaTek Inc., a leading global fabless chipmaker, would open the company's first semiconductor chip design center in the Midwest, to be housed on Purdue's campus. Located in Taiwan, MediaTek Inc. is the world's fourth-largest chip designer by revenue.
That was followed by another joint announcement with the IEDC on U.S.-based SkyWater Technology, which entered a $1.8 billion investment for locating a major semiconductor manufacturing facility in Discovery Park District at Purdue. It will provide investing companies access to both Purdue University faculty experts and highly sought-after graduates prepared to work in the industry.
Purdue University continually works to answer the call for semiconductor workforce development with the Semiconductor Degrees Program, the first comprehensive set of innovative, interdisciplinary degrees and credentials in semiconductors and microelectronics in the country.
Purdue has also partnered with Ivy Tech Community College, the nation's largest singly accredited statewide community college system, to develop industry-driven credentials and experiential programs. The collaboration brings Purdue's resources to populations that may not have had access to this type of program while upskilling a motivated workforce.