Vietnam's thriving semiconductor industry fuels economic resilience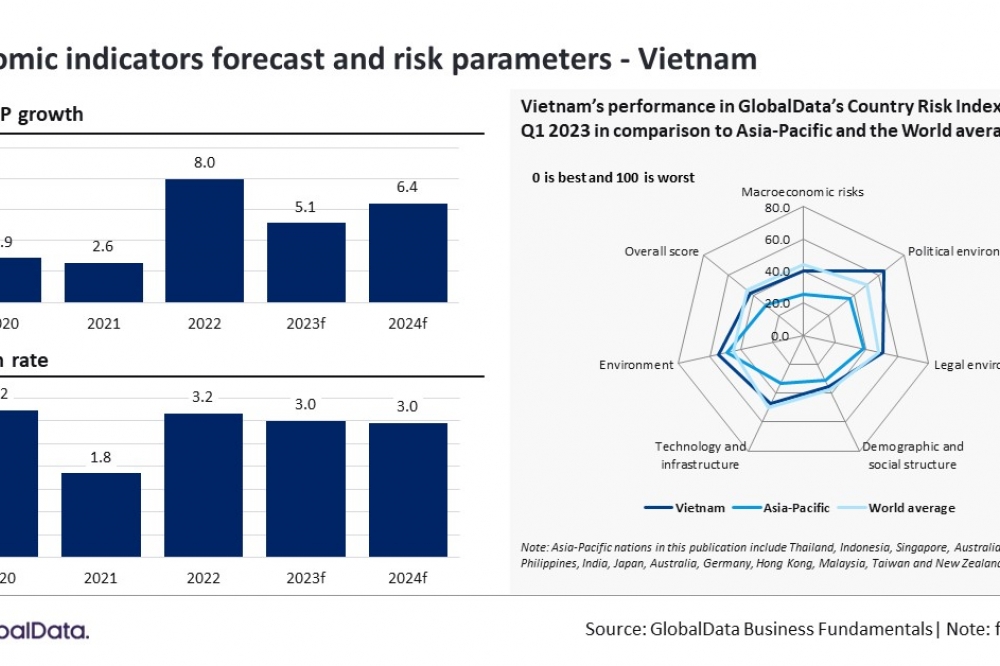 Vietnam's semiconductor industry, bolstered by significant investments from industry giants like Samsung and Intel, and the relocation of major manufacturers from China, has partly helped the country shine amidst a global economic downturn.

With a projected 5.1% growth rate in 2023, exceeding the 4.5% three-year average (2020-22), Vietnam's economy is poised for a robust rebound. The government's proactive measures, including monetary easing and increased public investment, are set to further drive growth at a rate of 6.5% for 2024-25, forecasts GlobalData, a leading data and analytics company.

GlobalData's latest PESTLE Insights report, "Macroeconomic Outlook: Vietnam," reveals that the country's domestic demand remains resilient due to the combination of easing inflation and reduced borrowing costs. During the first half (H1) of 2023, final consumption experienced a notable uptick of 2.68% compared to the same period in 2022.
The value added in agriculture and services witnessed a growth of 3.1% and 6.3%, respectively, contributing to the overall expansion of the GDP by 3.7% in H1 2023. However, the industrial sector's value-added saw a modest increase of 0.4% during H1 2023, marking the lowest growth during 2011-23 due to subdued trade. This was reflected in a significant decline of 10.0% in exports of goods and services, along with a notable drop of 13.2% in the import of goods and services on an annual basis throughout H1 2023.
Maheshwari Bandari, Economic Research Analyst at GlobalData, comments: "If external demand remains subdued or investment remains constrained, there is a possibility that growth could fall short of expectations. The ongoing issues in the real estate sector, including the suspension of $34 billion worth of projects as of June 2023, along with a rise in non-performing loans, have the potential to negatively impact Vietnam's economic prospects."
Sector-wise, mining, manufacturing, and utilities contributed 35.0% to Vietnam's gross value added (GVA) in 2022, followed by wholesale, retail, and hotels (13%), and financial intermediation, real estate, and business activities (12.6%). In nominal terms, the three sectors are forecast to grow by 12.8%, 12.8%, and 12.4%, respectively, in 2023 compared to 14.2%, 20.5% and 11.7%, respectively, in 2022.
Vietnam's semiconductor sector is poised for growth as Samsung invested $3.3 billion (August 2022) and Intel considers a $1 billion increase in its $1.5 billion chip production investment (February 2023). Amid the supply chain disruptions and trade conflicts, Vietnam aims to be a key player in the semiconductor industry.
Between January and July 2023, Vietnam welcomed around 6.6 million international visitors, hitting 83% of its yearly goal, as reported by the Vietnam National Authority of Tourism. GlobalData anticipates international arrivals to surge from 2.2 million in 2022 to 11.4 million in 2023 and even higher, reaching 19.5 million in 2025.
Vietnam is categorized as a manageable nation and ranked 63rd out of 153 nations in the GlobalData Country Risk Index (GCRI Q1 2023). Vietnam has a relatively high score in terms of all parameters of risk, compared to the average of Asia-Pacific nations. However, the country's score in terms of macroeconomics, technology & infrastructure, and demographic & social structure was lower than the World average in Q1 2023.
Bandari concludes: "Vietnam is becoming a pivotal figure in the redirection of worldwide supply chains, moving away from China. The focal point is the Deep C Two industrial estate in northern Vietnam, a hub for major global suppliers. The escalating demand in this zone emphasizes its importance as businesses aim to diversify beyond China's reach. Vietnam's advantageous geographical position and growing industrial areas, managed by entities like Deep C, are drawing manufacturers. This transition highlights Vietnam's escalating role in the reconfiguring global supply chain scenario, signifying a fresh phase in its economic journey."