Greene Tweed breaks ground on new facility in Korea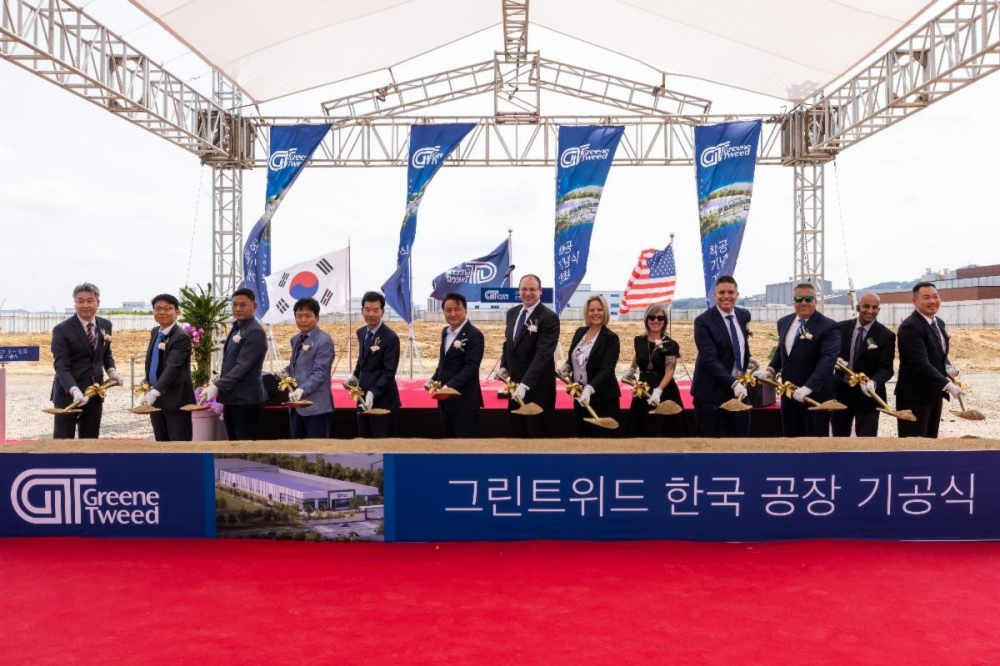 Greene Tweed, a global manufacturer of high-performance thermoplastics, composites, seals, and engineered components, has announced the groundbreaking of its newest manufacturing facility in Cheongju-si, Chungcheongbuk-do -- it's first in the Republic of Korea. A celebration ceremony was held on Monday, June 5 at the construction site with leaders from Greene Tweed and local dignitaries in attendance.
Greene Tweed executives Magen Buterbaugh, President and CEO, and Allon Bloch, Chairman, shared their visions about the strategic growth investment as a long-term commitment to support the growth of semiconductor manufacturing in the region. "The company's Korea expansion offers the organization an opportunity to support the region's continued growth of the semiconductor industry. The multi-million-dollar investment represents a significant increase in the company's global manufacturing capacity while enabling supply chain resiliency, both of which are critical to support our customer's continued growth," shared Buterbaugh. Also in attendance for Greene Tweed were Carla Lopez-Hodoyan, VP Sales and Commercial, Fernando Torres, VP Operations, Sal Anello, Director, Facilities and Safety, Thyag Sadasiwan, Director, Chemraz, Kyung-Kap Kim, Regional Sales Manager and Jongtae Kim, Value Stream Manager.
Dignitaries from across the Republic of Korea praised the new facility and its significance to Korea's semiconductor industry. Kim Young-hwan, Governor, Chungcheongbuk-do, LEE, Beom-Seog, Mayor, Cheongju City, and Kim Tae Hyung, Invest Korea (Kotra) and Kim Hyo-gon, Region Sales Manager, KICOX (Korea Industrial Complex Corporation) were prominent among those who attended.
Greene Tweed's investment in Korea will support the continued growth of the global semiconductor industry. The company plans to manufacture some of the most widely adopted and advanced elastomer seals at the new facility; products that are crucial to the demanding requirements of semiconductor manufacturing. The facility is expected to commence production in early 2024. The new manufacturing site will increase Greene Tweed's global capacity, enhance its business continuity plans, and help improve lead times and responsiveness for the company's regional and global customers.
The new facility will combine Greene Tweed's proven and tested technologies with advances in automation to manufacture products at the highest standards. Initially, production will focus on Greene Tweed's popular Chemraz® product line, a leading brand for sealing solutions to semiconductor, energy, and industrial markets and then will expand to include multiple product lines.
"Over the last few years, the instability in the global supply chain has been every customer's top priority. Greene Tweed continues to prioritize our customers' needs by investing in technology and operation efficiency that will support their continued growth. We are excited with this newest expansion to better support the unprecedented global demand for our products," declares Thyag Sadasiwan, Business Unit Director - Chemraz.