Arizona's top talent pipeline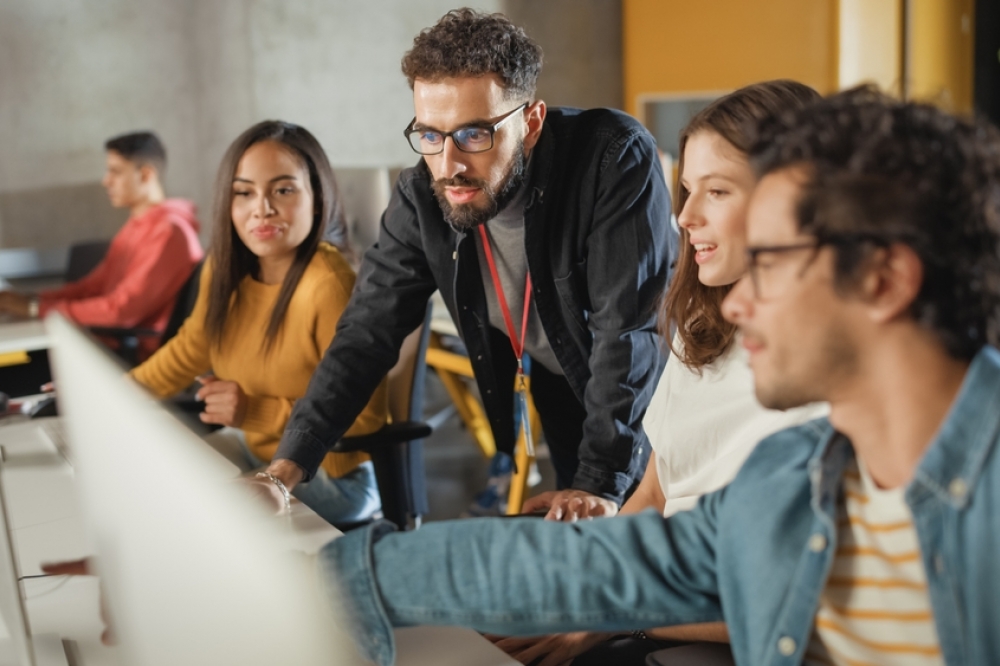 Rapid population growth, collaborative training programs power Arizona's premier semiconductor workforce.

For more than 70 years, Arizona has stood at the forefront of semiconductor design, development, and production. The future looks even brighter. Industry leaders have announced more than $60 billion in investment since 2020, believed to be the most of any state, and Arizona leads the nation in the number of supplier investments announced during that time (SIA).

With decades of industry experience, a robust talent pipeline anchored by top universities and community colleges, and one of the nation's fastest growing populations, Arizona is confident that it is positioned better than any state to power the semiconductor workforce of the future.
"Arizona's semiconductor workforce has seen rapid growth in recent years, driven by high-quality training programs from partners in industry and our world-class university system," said Governor Katie Hobbs. "These programs will be more important than ever as we lead the country in a new era of manufacturing resurgence. That's why I'm proud to invest in new partnerships and initiatives that will attract and retain our fast growing, highly-skilled workforce."
Recently, Governor Hobbs announced the BuilditAZ Initiative, a statewide initiative to double the number of construction and trades registered apprentices by 2026. This program focuses on increasing access to apprenticeships for women and other underrepresented learners while increasing postsecondary attainment.
"Intel is deeply committed to building the workforce of the future for U.S. semiconductor manufacturing and R&D," said Al Thompson, Vice President, US-Canada Government Affairs, Intel Corporation. "Through strategic partnerships with state and local education institutions, we are investing heavily in workforce development programs that provide access for students to technical fields and create new career opportunities to diversify our industry. We are proud to collaborate with Maricopa Community Colleges on the Semiconductor Technician Quick Start program, a pioneering program to scale talent quickly, and value Arizona's collaborative environment, renowned for nurturing and attracting top-tier talent."
In partnership with Intel and TSMC, Maricopa Community Colleges launched the Semiconductor Technician Quick Start program in 2022. The affordable two-week program prepares students for careers as semiconductor technicians through hands-on learning from private-industry instructors. In the program's first year, 587 students earned certifications, with over two-thirds representing students of color and over half representing first generation college students.
"When making the decision to expand and invest in the US, the ability to tap Arizona's world-class engineering talent pipeline was one of the top considerations. This state and the greater Phoenix region are undergoing tremendous population growth which presents a wonderful recruiting advantage," said Brian Harrison, President of TSMC Arizona. "When complete, our Arizona fabs will operate the most advanced semiconductor manufacturing technology in the country. The collaboration with higher-education institutions such as ASU and the Maricopa Community Colleges are critical to our long-term success."
Arizona's industrial growth is powered by its rapidly growing construction workforce. Between 2017 and 2022, Arizona saw the second-fastest construction employment growth in the country at 35%, behind only Idaho. Arizona added over 50,000 construction jobs during that time, the 4th most of any state.
"Ranked #1 in innovation for eight consecutive years by US News & World Report, Arizona State University is home to the largest engineering college in the country, with more than 30,000 students enrolled in seven transdisciplinary engineering schools, including a new School of Manufacturing Systems and Networks," said ASU Executive Vice President, Sally Morton. "More than 500 faculty members teach on campus and online with more than $150 million in engineering research expenditures in 2022. Driven by its mission of public service and accelerated by renewed national focus on domestic chip production, ASU leverages its diverse capabilities, industry-grade facilities, expertise, and partnerships to bolster microelectronics research, development, and manufacturing at a national scale."
In July, ASU, Applied Materials, and the ACA announced a more than $270 million shared research, development and prototyping facility, the Materials-to-Fab (MTF) Center, to be located at ASU's MacroTechnology Works center. The MTF Center will provide students and faculty with opportunities for hands-on learning and research on the same 300mm equipment used in leading-edge production fabs.
"As the state's land-grant university, the University of Arizona is capitalizing on its unique position to support today's semiconductor and microelectronic industries, as well as tomorrow's chip-scale quantum technologies and photonic devices, with the support of world-leading researchers from across the disciplines," said Liesl Folks, Vice President Semiconductor Manufacturing, University of Arizona. "With annual research expenditures exceeding $824 million, the university is committed to expanding and upgrading its nano fabrication space and capabilities in partnership with the state. We are committed to advancing sustainable economic development, training the workforce of the future, and enhancing national security – thereby growing the pool of well-paid jobs in Arizona and across the nation. We are at a unique moment in time, and we at the University of Arizona are moving with urgency to address these challenges."
"Northern Arizona University is a leading engine of access and upward mobility that provides students with exceptional, workforce-aligned programs allowing them to excel in modern, high-demand sectors like the semiconductor industry," said NAU President, Dr. José Luis Cruz Rivera. "Graduates from our College of Engineering, Informatics, and Applied Science gain invaluable hands-on experience and collaborate with world-class faculty throughout their educational journey, preparing them to contribute to the booming semiconductor workforce in our state. And, with strong partnerships between NAU, the ACA, and the state's ten community college districts through the Arizona Attainment Alliance (A++), NAU is ensuring a strong statewide talent pipeline for continued economic development and future prosperity."
"Arizona is home to a diverse and highly-skilled workforce, anchored by major industries such as healthcare, technology, and manufacturing, which will only continue to grow in the coming years," said Dr. Steven R. Gonzales, Chancellor of the Maricopa County Community College District. "The expansion of and investment into these fields has allowed our System to create course offerings that directly cater to the needs of growing industries, including semiconductor manufacturing. Our Semiconductor Technician Quick Start has become a model for colleges and universities across the nation and is helping build a talent pipeline to support two of the three largest semiconductor manufacturers in the world."