Wafer cleaning equipment market to reach US$ 5.9 billion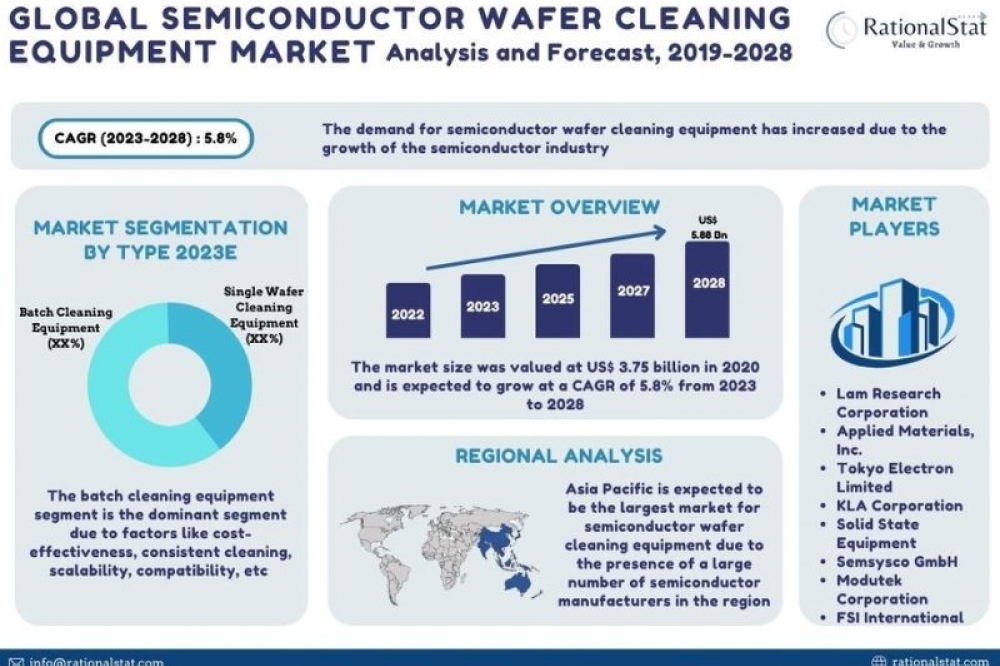 Global Semiconductor Wafer Cleaning Equipment Market is valued at US$ 3.8 billion in 2022 and is expected to grow at a significant CAGR of over 5.80% over the forecast period of 2023-2030, as per the market intelligence survey by RationalStat.

Semiconductor wafer cleaning equipment ensures the cleanliness and purity of wafers used in semiconductor manufacture, which is critical in the semiconductor manufacturing process.
As semiconductor technology progresses, there is an increasing demand for greater precision and performance. Cleanliness is critical for preventing faults and ensuring the appropriate operation of semiconductor devices. The trend in semiconductor manufacturing towards lower node sizes enhances the vulnerability of devices to impurities. Even minute particles can have an impact on device performance, so proper wafer cleaning is critical.
According to a deep-dive market assessment by RationalStat, the global semiconductor wafer cleaning equipment market has been analyzed on the basis of market segments, including wafer size, technology, application, and geography/regions (incl. North America, Latin America, Western Europe, Eastern Europe, Middle East & Africa, and Asia Pacific). The report also offers global and regional market sizing for the historical period of 2019-2022 and the forecast period of 2023-2030.
Market intelligence for the global semiconductor wafer cleaning equipment market covers market sizes on the basis of market value (US$/EUR Million) and volume (Units) by various products/services/ equipment, demand assessment across the key regions, customer sentiments, price points, cost structures, margin analysis across the value chain, financial assessments, historical and forecast data, key developments across the industry, import-export data, trade overview, components market by leading companies, etc.
In addition, the long-term sector and products/services 10-year outlook and its implications on the global Semiconductor Wafer Cleaning Equipment market. It also includes the industry's current state – Production Levels, Capacity Utilization, Tech quotient, etc. Key information will be manufacturing capacity by country, installed base, import volumes, market size, key players, market size, dynamics, market data, insights, etc.
Global Semiconductor Wafer Cleaning Equipment Market: Segmental and Market Share Analysis
On the basis of wafer size, the 300 mm wafer size segment is expected to expand rapidly. One element contributing to the increase is the usage of these wafers in more electronic and semiconductor devices, such as ICs, MEMS, and LEDs.
On the basis of technology, during the forecast period of 2023-2030, the Wet Chemistry-Based Cleaning Technology sector is predicted to grow fast at a CAGR of 9.22%. Wet chemistry-based cleaning technology is the most extensively used chemical cleaning method for eliminating contamination from semiconductor chip surfaces.
On the basis of application, the LED segment is expected to grow rapidly. The market for semiconductor wafer cleaning equipment for LED applications is expanding, owing mostly to increased smartphone penetration and increased usage of electrical components in cars.
Period Covered include data for 2019-2028 along with year-wise demand estimations
The semiconductor wafer cleaning equipment market report analyzes the market on the basis of global economic situations, regional geopolitics, import-export scenarios, trade duties, market developments, organic and inorganic strategies, mergers and acquisitions, product launches, government policies, new capacity addition, technological advancements, R&D investments, and new market entry, replacement rates, penetration rates, installed base/fleet size, global and regional production capacity, among others.
The global semiconductor wafer cleaning equipment market report also covers value chain and supply chain analysis that provides in-depth information about the value chain margins and the role of various stakeholders across the value chain. Market dynamics provided in the market study include market drivers, restraints/challenges, trends, and their impact on the market throughout the analysis period.
In the competition analysis section, the global semiconductor wafer cleaning equipment market provides a detailed competition benchmarking analysis based on the market share of the leading companies/ brands/producers/suppliers, a market structure overview with detailed company profiles of more than 25 players with their financials, product/service offerings, major developments, business models, etc. This enables, clients and report buyers to make strong, precise, and timely decisions.