NTHU signs MoU with the University of Illinois System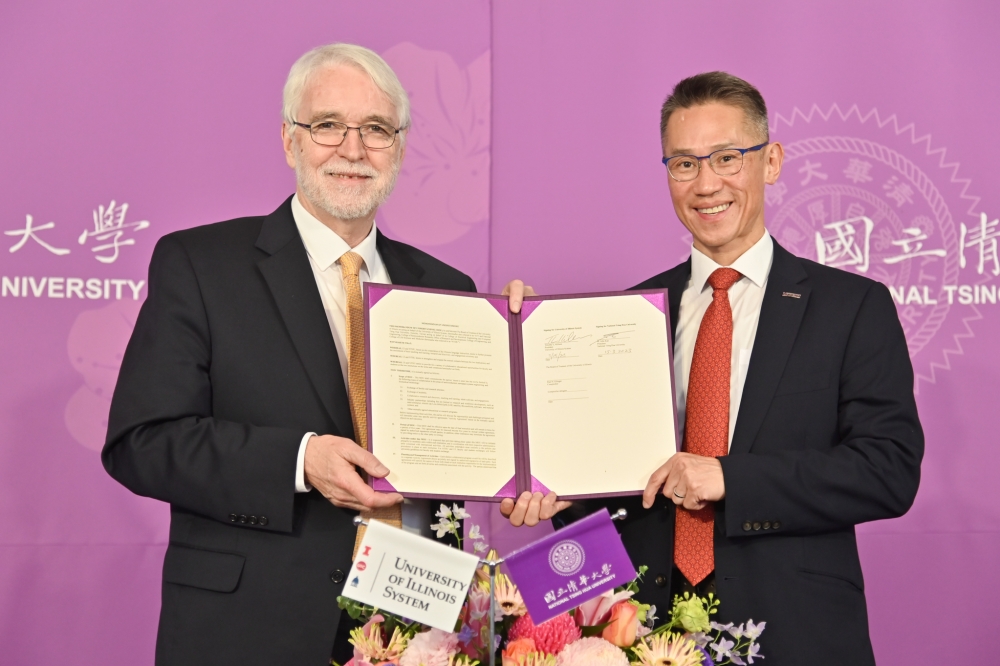 National Tsing Hua University (NTHU) in Taiwan has signed a Memorandum of Understanding with the University of Illinois System, one of the top public universities in the United States, which includes student and faculty exchanges as well as joint research in areas such as semiconductors, biomedicine, electric vehicles, materials science, and Chinese language education.

The University of Illinois System includes 3 universities in Urbana-Champaign, Chicago, and Springfield. The University system has a wide range of programs, and the University of Illinois Urbana-Champaign, which was the earliest one established in 1867, has produced 18 Nobel Prize winners over the years.

NTHU first signed a memorandum of cooperation with the University of Illinois Chicago (UIC) and University of Illinois Urbana-Champaign (UIUC) in 2020 and 2021, respectively, and will soon extend this collaboration agreement to include the University of Illinois Springfield (UIS).
The Memorandum of Understanding was signed by NTHU president W. John Kao and University of Illinois System president Timothy L. Killeen. The signing ceremony was held at NTHU and was witnessed by representatives of the Ministry of Education.
The ceremony was followed by a dialogue on the topic of "Global Higher Education-Opportunities and Challenges." Both presidents emphasized the importance of cultivating students' ability to engage in interdisciplinary and diverse learning in order to face the challenges of the next generation.
Kao pointed out that one of the key elements of NTHU's development strategy is education with interdisciplinary and diversity. Both schools are highly rated in terms of academic performance, and the latest memorandum of cooperation expands their existing relationship in breadth and depth for students and faculty alike.
Killeen said this was the fifth or sixth time he visited Taiwan. The University of Illinois System values the partnership with NTHU as well as cultivating students' diverse abilities. For example, when Covid-19 broke out, we need a comprehensive solutions combining knowledge of medical and social economics. This MOU is vital for us to develop new collaborations to increase interactions between our faculty and students, such as semiconductor and environmental sustainability.
Due to the Covid-19 pandemic, the extent of collaboration between the two institutions was relatively less during the past few years, but now that borders are beginning to reopen, the number of student and teacher exchanges is expected to increase rapidly. In fact, three NTHU students are currently getting ready to begin exchange programs at UIUC and UIC.
Beginning in the fall semester 2023, Yu-he Liu, a second-year M.A. student of the Institute of Biomedical Engineering, will spend a year at UIC. She said that UIC has one of the best medical schools in the United States, adding that, "My research field is visual imaging and sensing, and I expect to learn a lot in this area during my time in the United States."